Centro Interpretativo do Cabeço da Mina

[Assares, Vila Flor, 2017]

O Centro Interpretativo do Cabeço da Mina pretende dar relevo especial a um importante achado arqueológico ocorrido na década de 1980 no Cabeço da Mina – um lugar desta freguesia de Assares – constituído por um conjunto de estelas antropomórficas do período da Pré-história recente.
Não se conhecia, até então, uma concentração tão significativa de peças arqueológicas deste tipo num local concreto, o que levou os arqueólogos a considerá-lo um local sagrado para as primeiras comunidades agro-pastoris que habitaram o Vale da Vilariça há cerca de 4.000 anos, no final da Idade da Pedra e início da Idade dos Metais.
O simbolismo destas primeiras formas de escultura, evocando a figura humana, permite concluir que os povos locais se incluíam numa rede de relações mais vasta, integrando o  universo mental da Europa de então, especialmente a bacia mediterrânica.
Apesar da intensa e milenar ocupação humana, esta região da Vilariça consegue ainda proporcionar uma boa diversidade de habitats naturais. Alguns são raros e com grande interesse para a conservação, como os matagais arborescentes de zimbro, ou as manchas de sobreirais e azinhais selvagens, que geralmente ocupam vales encaixados ou encostas escarpadas, com pouca utilidade para a agricultura.
A topografia dramática do vale é influenciada também pela riqueza litológica regional, constituindo sequências geológicas extensas onde se misturam registos sedimentares, ígneos e metamórficos, incluindo desde algumas das mais antigas rochas portuguesas, com mais de 500 milhões de anos de idade, até aos mais recentes sedimentos fluviais, que a bacia do Douro continua a alimentar.
Interpretation Centre of Cabeço da Mina
[Assares, Vila Flor, 2017]
The Interpretation Centre of Cabeço da Mina main focus will be placed on an outstanding archaeological find of the 1980s, which took place in Cabeço da Mina, civil parish of Assares: a group of anthropomorphic stelae from the recent Prehistory.
Such a concentration of archaeological material of this kind in a restricted area was unprecedented. Archaeologists interpreted this as evidence of the sacred nature of this place for the first agro-pastoral communities who inhabited the Vilariça Valley 4000 years ago, at the end of the Stone Age and in the Early Metal Age.
The symbolic nature of these early sculpture forms, evoking the human figure, firmly suggests that the local people were part of a wider network, of the mental universe of Europe, and especially of the Mediterranean basin.
In spite of its intense and millenary human occupation, the Vilariça Valley still provides substantial natural habitat diversity. Some of these habitats are rare and with high conservation value, such as the juniper scrubland, or the wild cork and holm oak woods, usually in enclosed valleys or steep slopes, with little use for agriculture.
The valley's dramatic topography is also caused by the region's lithological wealth: extensive geological sequences, a mixture of metamorphic, igneous and sedimentary rocks – including some of the oldest rocks in the Portuguese territory, over 500 million years old, as well as the most recent river sediments continuously provided by the Douro basin.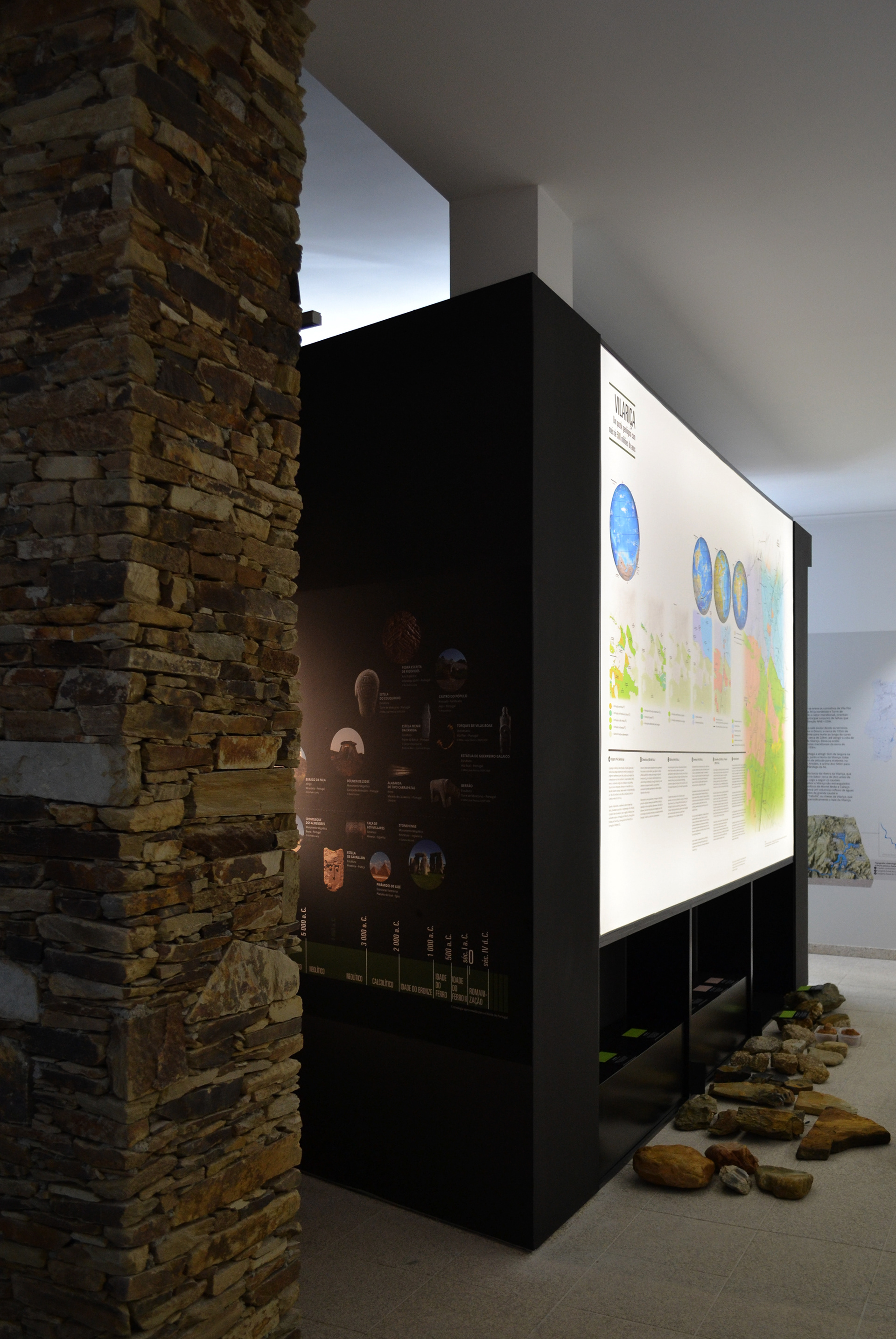 Projeto :: Project
Centro Interpretativo do Cabeço da Mina
Interpretation Centre of Cabeço da Mina
Promotor :: Promoter
Município de Vila Flor
Direção Regional de Cultura do Norte

Museografia :: Museography
ArqueoHoje, Lda
Pitanga Design – LF&DM, Arquitetura e Design Lda

Arquitetura e Design de Equipamento :: Architecture and Equipment Design
Daniela Michelli Lopez

Design Gráfico :: Graphic Design
Luís Marques Ferreira

Design de iluminação :: Light Design
Pedro Forca (Lighter, Lda)

Fotografias :: Fotography
© Luis Marques Ferreira
© Arqueohoje Lda
Direção de vídeo :: Video director
Rui Pedro Lamy​

Produção de video :: Video production
ETHNO​
Produção e montagem de cenografia :: Cenography production and implementation
Móveis Carpintaria Alívio
ESAG – Estúdio de Artes Gráficas